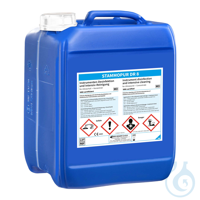 The picture may be different from the article and can include supply, which is not in the standard scope.
STAMMOPUR DR 8 Cleaning and disinfecting agent – concentrate
---
tehlikeli madde
Sipariş No..: 6028
Fiyat isteyiniz için 1 Adet
---
Instruments - Disinfection
with intensive cleaning in ultrasonic bath
VAH-certified CE 0124

At a glance
- Concentrate
- Developed for use in an ultrasonic bath
- Short-term disinfection in an ultrasonic bath
- Very high cleaning effect in the ultrasonic bath
- Very high material compatibility
- Aldehyde-, phenol- and chlorine-free
- Bactericide, Batherculocide, Levurocide
- Virucide against vaccinia, BVDV, Papova, Adeno,
HBV, HCV, HIV, avian influenza A virus H5N1
- Extended service life of 3 days*
- Odourless

General information
STAMMOPUR DR 8 is designed for manual instrument disinfection
with simultaneous intensive cleaning in an ultrasonic bath
and for non-fixing wet storage.
STAMMOPUR DR 8 causes short ultrasonic treatment times
at low application concentration and is gentle on
thus particularly highly sensitive instruments. The preparation time
is shortened, the instruments stand faster
available again.

Material compatibility
STAMMOPUR DR 8 has a very high material compatibility,
is suitable for parts made of metal, glass, porcelain,
ceramic and plastic and has a corrosion protection
for ferrous metals. No optics, light guides and/or glued
Treat parts in an ultrasonic bath.
For endoscopes and accessories the suitability recommendations are
the companies Karl Storz GmbH and Richard Wolf GmbH
before. The information provided by the instrument manufacturers can be obtained from
Processing with STAMMOPUR DR 8, especially in the
Ultrasonic bath, to be strictly observed.

Dosage and application times
Application in an ultrasonic bath
Bactericide, Batherculocide, Levurocide
vaccinia, BVDV, HBV, HCV, HIV, H5N1
2 % - 5 minutes**
Papova 2 % - 10 minutes**
Adeno 3 % - 15 minutes**
Disinfection without ultrasound
1 % - 60 min (bactericidal, levurocidal)
additionally effective against
vaccinia, BVDV, Papova, HBV, HCV, HIV, H5N1
2 % - 30 min** 3 % - 15 min

All efficacy data under high load
** = Expertly recommended dosage/exposure time

Instructions for use
Prepare with water of at least drinking water quality. At
the application in the ultrasonic bath, the instructions of the
manufacturers of ultrasonic devices must be observed. Temperatures of the
Check ultrasonic baths. Avoid temperatures >45 °C
(protein fixation). After the treatment in the ultrasonic bath
Rinse parts thoroughly with water (see RKI recommendation)
and dry. Instruments for cleanliness and function
check. Subsequent final disinfection or sterilization
depending on the classification of the medical device. The specifications for
Processing of medical devices must be observed.
The addition of cleaning amplifiers is not permitted.
STAMMOPUR DR 8 is not compatible with aldehyde preparations.
compatible.
* The working solution must be changed as soon as the degree of contamination
this requires, at the latest
after three days.

Danger warnings
H302 Harmful if swallowed.
H314 Causes severe skin burns and severe eye damage.
H317 May cause allergic skin reactions.
H334 May cause allergy, asthma-like symptoms or difficulty breathing if inhaled.
cause.
H336 May cause drowsiness and dizziness.
H361fd Suspected of affecting fertility. Suspected of causing the child in
Damage the womb.
H411 Toxic to aquatic organisms, with long-term effects.


Safety Instructions
P280 Wear protective gloves/protective clothing/eye protection/face protection
P305+P351+P338 IN CONTACT WITH EYES: Rinse gently with water for several minutes.
Remove existing contact lenses if possible. Continue rinsing.
P308+P313 ON EXPOSURE or if affected: Seek medical advice/attention.
P310 Immediately call a POISON CENTER/Medical Service.



| Description | value |
| --- | --- |
| İçerik: | 10 l |
| Description | value |
| --- | --- |
| GHS Numarası: | GHS05 |
| GHS Numarası: | GHS07 |
| GHS Numarası: | GHS08 |
| GHS Numarası: | GHS09 |
| Sinyal kelime: | Danger |
| Tehlike kodu: | H302,H314,H317,H334,H336,H361fd,H411 |
| Tehlike kodu: | H302,H314,H317,H334,H336,H361fd,H411 |
| P-Kodları (İhtiyat kodları): | P280,P305+P351+P338,P308,+P313,P310 |
| UN numarası: | 1903 |