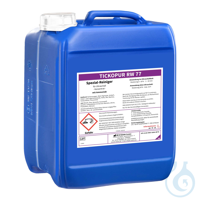 The picture may be different from the article and can include supply, which is not in the standard scope.
TICKOPUR RW 77 Special cleaner with ammonia – concentrate
---
Sipariş No..: 6026
Fiyat isteyiniz için 1 Adet
---
Special cleaner with ammonia
For cleaning and degreasing of disassembled and undismantled machine and tool parts made of metal (with slightly de-oxidising effect on non-ferrous and precious metals) glass, ceramics, plastics, rubber and printed circuit boards in the service sector, in trade, industry and laboratories.
TICKOPUR RW 77 is specially designed for cleaning in SONOREX ultrasonic units, but can also be used for immersion and wipe cleaning. When used properly, a fast and material-friendly cleaning is guaranteed.

TICKOPUR RW 77 removed:
Resin, soot, pigments, grinding, polishing and lapping residues, greases, oils, waxes, paint residues, fluxes etc.
from
Metal, glass, ceramics, plastics, rubber, circuit boards in the service sector, watches, test sieves, coins etc.

Properties
- Liquid
- Concentrate
- For ultrasonic application
- pH 9,9 at 1
- Emulsifying
- Phosphate-free
- Biodegradable

Application concentration
Application with ultrasound
Dosage: 5
sonication time: 1 - 10 minutes
Temperature: 20 - 80 °C

Material compatibility
TICKOPUR RW 77 has a high material compatibility. Alkali-sensitive materials can be attacked, keeping the cleaning time to a minimum.
Preliminary tests for the resistance of sensitive parts are recommended.

Danger warnings
H315 Causes skin irritation.
H318 Causes severe eye damage.

Safety Instructions
P280 Wear protective gloves/protective clothing/eye protection/face protection
P305+P351+P338 IF IN EYE CONTACT: Rinse gently with water for a few minutes.

| Description | value |
| --- | --- |
| İçerik: | 10 l |
| Description | value |
| --- | --- |
| GHS Numarası: | GHS05 |
| Sinyal kelime: | Danger |
| Tehlike kodu: | H315,H318 |
| Tehlike kodu: | H315,H318 |
| P-Kodları (İhtiyat kodları): | P280,P305+P351+P338 |