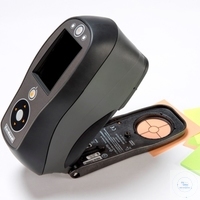 The picture may be different from the article and can include supply, which is not in the standard scope.
Automatic Colour Measurement / Reflection Spectrophotometer RT 300 Series
---
Sipariş No..: 400320
Fiyat isteyiniz için 1 package
---
Assortment:

Lovibond Farbmessung

Ürün Kodu:

400320

İndeks:

Farbmessgeräte

Geçerlilik:

31.12.2023

Son güncelleme:

16.11.2022

Benzer ürünler:

show (9)
RT320 (0/45) 4-, 7- AND 15-MM DIAPHRAGM

The most important product features at a glance:

- Geometry: 0/45
- Light types: C, D50, D65, D75, A, F2, F7, F11 and F12
- Standard observer: 2o , 10o
- Measuring range: interchangeable 4-,7- and 15-mm measuring ranges/6.5-, 9-
and 21.5-mm target windows
- Repeatability: 0.05 DE*ab on white ceramic
- Memory: 1024 standards; 2000 samples
- Display: built-in, graphic, LCD
- Other functions:
Special JOBS mode
Programmed sequence of specific steps to guide the operator through the colour
operator through the colour measurement process,
ensuring consistency

Colour scales and values:
CIE 94
CIE-L*a*b
CMC colour tolerance space
Hunter Lab
CIELAB (L*C*h)
White index (ASTM E 313)
XYZ colour value coordinates
XYZ tristimulus values
Yellow index (ASTM E 313)
Metamerism index
Colour difference Delta E*
Mis-transmission of colour data
Spectral data

The RT 250, RT 300, RT 400 and RT 500 are versatile, portable spectrophotometers with a choice of diffuse/8° sphere or 0/45 optical geometry for fast, precise and accurate colour measurement for a wide range of products. They can be used for absolute and differential measurements in a wide range of colourimetric systems. The RT 300 and RT 500 can be combined with the OnColorTM software package to download, analyse in detail and store unlimited readings on a PC.
The RT 250, RT 300, RT 400 and RT 500 can also be combined with a wide range of accessories for repeatable measurements of liquids, gels, powders and other materials.