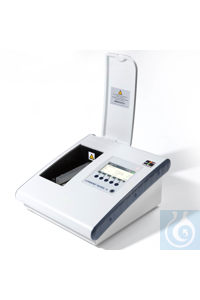 The picture may be different from the article and can include supply, which is not in the standard scope.
Automatic Colour Measurement/Transmission Model Fx
---
Sipariş No..: 169200
Fiyat isteyiniz için 1 package
---
Assortment:

Lovibond Farbmessung

Ürün Kodu:

169200

İndeks:

Farbmessgeräte

Geçerlilik:

31.12.2024

Son güncelleme:

15.11.2023
Model Fx
Accurate colour measurement of edible oils at the correct temperature

Conforms to the following standards:
Lovibond® RYBN: AOCS Cc 13e, AOCS Cc 13j, ISO 15305, MS 252:Part 16, IP Method A
Lovibond RY 10:1: Chinese GB/T 22460-2008 Standard for adopted from the ISO 15305-1998
AOCS RY: AOCS Cc 13b-45 the Wesson Method, AOCS Cc 8d-55, AOCS Cc 13j-97
Chlorphyll: AOCS Cc 13d-55
β-Carotene: BS684 Section 2.20

Highlights
Avoid erroneous measurements due to crystallisation
-Measures Lovibond® RYBN, Lovibond RY10:1, AOCS RY, chlorophyll & b-carotene
-Allows measurement of hot samples (integrated heater)
-Assured compliance with standards

The Lovibond® Model Fx solves the problem of measuring the colour of edible oils with its unique ability not only to maintain the oil at a constant temperature, but also to measure and display the temperature of the sample to avoid erroneous measurements due to crystallisation. You can now measure edible oils in their natural and correct state without the temperature of the sample affecting the results. The Fx model measures to the following standards: Lovibond® RYBN, Lovibond RY10:1, AOCS RY, chlorophyll & b-carotene.

Applications:
Edible oils and fats

-Avoiderroneous measurements due to oil crystallisation.
Many edible oils are unique in their fractionation - resulting in different melting points for different applications.
Therefore, the sample temperature and the maintenance of this temperature during the measurement becomes even more important, as temperature and colour go hand in hand.
Temperature and duration must be set accurately to ensure that the sample is completely in the liquid phase for the entire measurement period. It should be noted that overheating can darken the oil. Microwave heating is faster, but can lead to uneven temperature distribution within the oil. The integrated heating also allows hot samples to be measured and keeps the samples at their ideal temperature.

-Save costs, misinterpretations and possible disputes.
The Fx model also shows the temperature at which the sample was measured. If there is a disagreement between supplier and customer, this additional unique feature can help find a solution, saving time and money. Currently, non-repititive analysis is still a problem in all refineries.

-Makes sure you are compliant with standards.
The Fx model measures to the Lovibond® RYBN, Lovibond RY10:1, AOCS RY, Chlorophyll & b-Carotene scales most commonly used in the edible oil industry. This means you are compliant with all internationally recognised methods.

-Ideal for continuous use in edible oil refineries.
The Fx model has a robust, chemically resistant aluminium housing (100% recyclable and sustainable).
The sealed unit and removable sample chamber can be easily cleaned of accidental oil spills. This avoids any degradation of measurement accuracy.