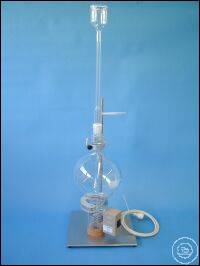 The picture may be different from the article and can include supply, which is not in the standard scope.
Steam generator for larger quantities of steam 4000 ml, with exchangeable...
---
Sipari┼č No..: 136721111
Fiyat isteyiniz i├žin 1 Adet
---
Assortment:

Landgraf HLL

├ťr├╝n Kodu:

136721111

Ge├žerlilik:

30.06.2023

Son g├╝ncelleme:

01.01.2023
The steam generator is used to produce clean steam for laboratory purposes.
This is required, for example, for the classic determination of nitrogen (according to Parnas Wagner, Kjeldahl distillation) or the distillation of essential oils and the testing of lubricants.
(water separation capacity according to steam treatment DIN 51589)
For the production of distilled ultrapure water (EU Pharmacopoeia), the steam generator can be extended with an optional reflux condenser.

Power 850 W /230V /50 Hz
Flask 4000 ml,
connection: Sleeve NS 29/32
Material: Clean Save laboratory glass

Component:
136721114 heating flask
WER10900 Three-point flange clamp NW 80
WER11900 Viton ring for flange NW 80
WER00900 Flask 4000 ml,flange NW 80, sleeve NS29
136721113 Attachment for filling the steam generator and steam extraction.
Operating instructions:

Recommended accessories:
Tripod, Art: 136721112
AC voltage regulator:136710004
Countdown timer: 136721115

Devices for connection (examples):
51589* Testing of lubricants
SON02143 Parnas-Wagner nitrogen determination apparatus WER00362

Observe the operating instructions:
For supervised operation only. The unit has no dry-running protection. Dry running will destroy the unit.
Dry-running protection must be ensured via the optional countdown timer.